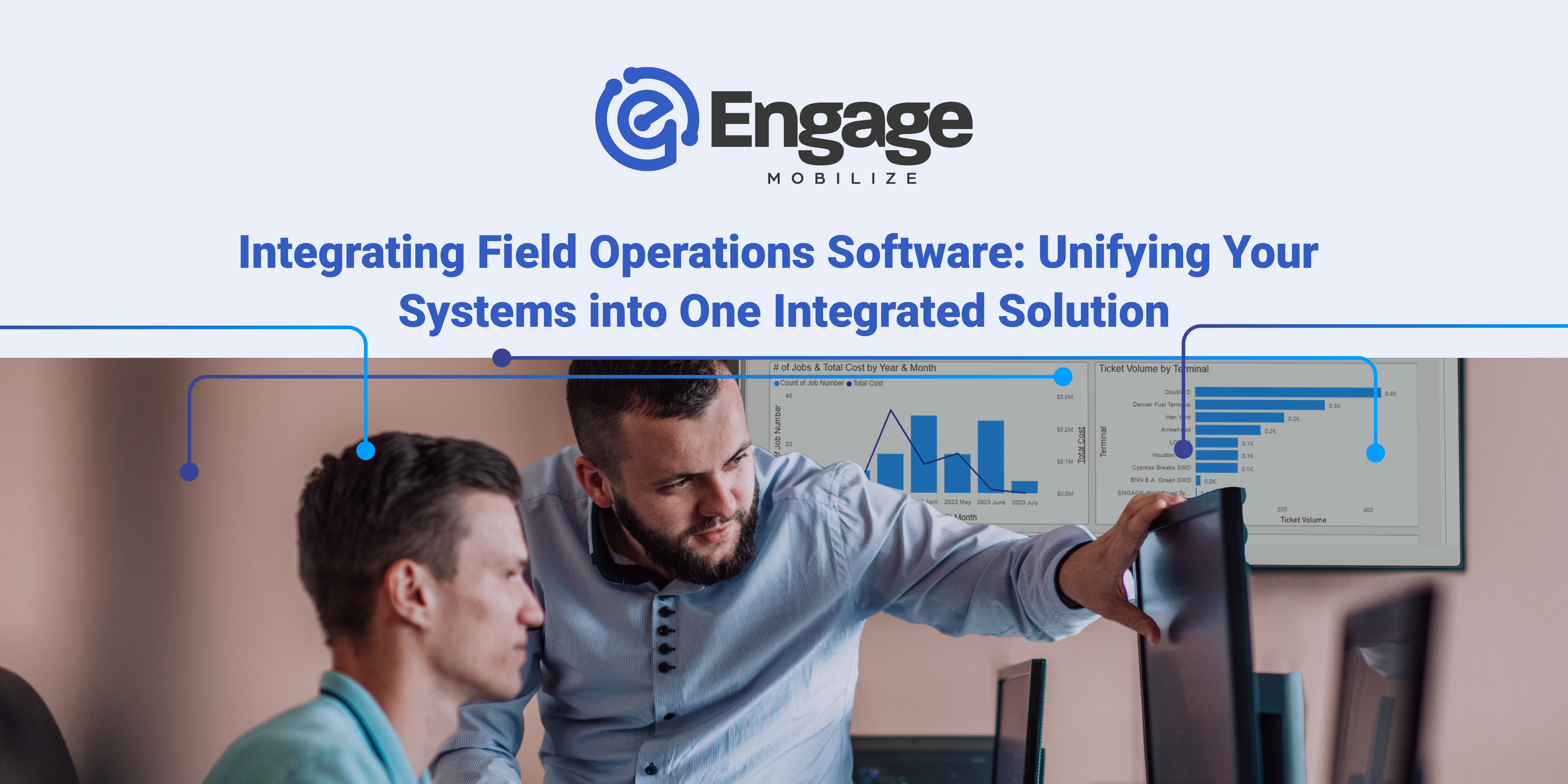 The Engage Mobilize E-Ticketing platform has emerged as a game-changer for streamlining field service workflows by replacing inefficient paper-driven processes with digital ticketing. Digital processes efficiently capture data, but unless that data can be shared electronically with other applications and systems that need it, E-Ticketing will not realize its full potential to drive productivity, efficiency and business intelligence across the entire organization.
This article covers the benefits of integrating Engage Mobilize E-Ticketing with other systems and outlines the integration options available.
The Role of Oil & Gas Accounting in Various Workflows
Production Accounting typically serves as the conduit for data from the field into ERP and other systems used for cost tracking, revenue allocation, production volumes, financial reporting, regulatory compliance and other critical functions.
Disparate workflows for managing field services and back-office business processes can result in information bottlenecks, redundant manual data entry and a lack of timely, valid information for business intelligence. Efficient accounting workflows require accurate and timely data inputs from various sources, making integrating field operations data a priority.
Data Outputs from the Engage Mobilize Platform
The Engage Mobilize E-Ticketing platform is designed to streamline the collection and management of field data from ticket to invoice. When harnessed effectively, this data can enhance decision-making and optimize operations throughout the organization. Integrating E-Ticketing with other systems is needed to unlock this potential.
Integration Options
Several integration options are available to connect Engage Mobilize with other systems seamlessly. Here are a few options, which we will describe in more detail below:
NextGen 2.0: This comprehensive solution offers integration capabilities across modules, promoting synergy between disparate systems and processes.
Unit 3 Tech: A specialized integration platform tailored for the Oil & Gas sector, Unit 3 Tech facilitates data exchange between Engage Mobilize and other software solutions.
Engage Mobilize API: For organizations seeking a more customized approach, the Engage Mobilize API allows developers to create tailored connections between the platform and existing systems.
Engage Mobilize Integration Team: Engage Mobilize's dedicated integration team collaborates with organizations to design and implement integration solutions that meet specific needs.
Focus on NextGen 2.0
Through the NextGen i2x integration solution, Engage Mobilize intelligent field operations software can be efficiently integrated with 80+ accounting/ERP systems and eight Operator portals, improving security, reducing Days Sales Outstanding and eliminating process redundancies. A key benefit of i2x is that service companies can submit data directly from their preferred accounting software, like QuickBooks, and i2x does the rest.
The Engage Mobilize-NextGen solution allows Oil & Gas operators and service companies the ability to seamlessly integrate their ERP and Accounting systems with the E-Ticketing platform and completely digitize the flow of information from field ticket to invoice.
i2x Portal Integration Software. The NextGen i2x Supplier Portal Integration Software makes electronic invoice submission and processing easy, fast and secure for operators and suppliers. The Supplier Portal is NextGen's term for the interface between the service provider (i.e., vendor or supplier) ERP or Accounting system and the NextGen platform, with which the Operator (i.e., customer) is also connected. Using i2x, service providers can upload invoices and field tickets from their ERP or Accounting to the NextGen system with 1-Click™ and securely transmit them directly to the operator (customer) portal. A significant benefit of i2x is it can send invoices from your accounting system (e.g., QuickBooks) to multiple operator portals, no matter what ERP system an individual operator uses. Invoices are received and then paid securely by the operators.
eFAST Integrator. The eFAST Integrator seamlessly integrates invoice portals and an operator's internal applications, including the ERP or Accounting system, Procurement and Document Management systems. Using the eFAST Integrator, an operator can link the Engage Mobilize E-Ticketing platform to its ERP systems or internal Data Warehouse and feed systems for Joint Interest Billing, Expense Reporting, Purchasing and Document Management Systems. This capability eliminates the need to print, scan and email invoices. In addition, as shown in the diagram below, eFAST can connect other business systems and software. For example, Purchase Orders originate in a non-Engage Mobilize platform or HSE/ESG reporting data available on our ticketing data fields.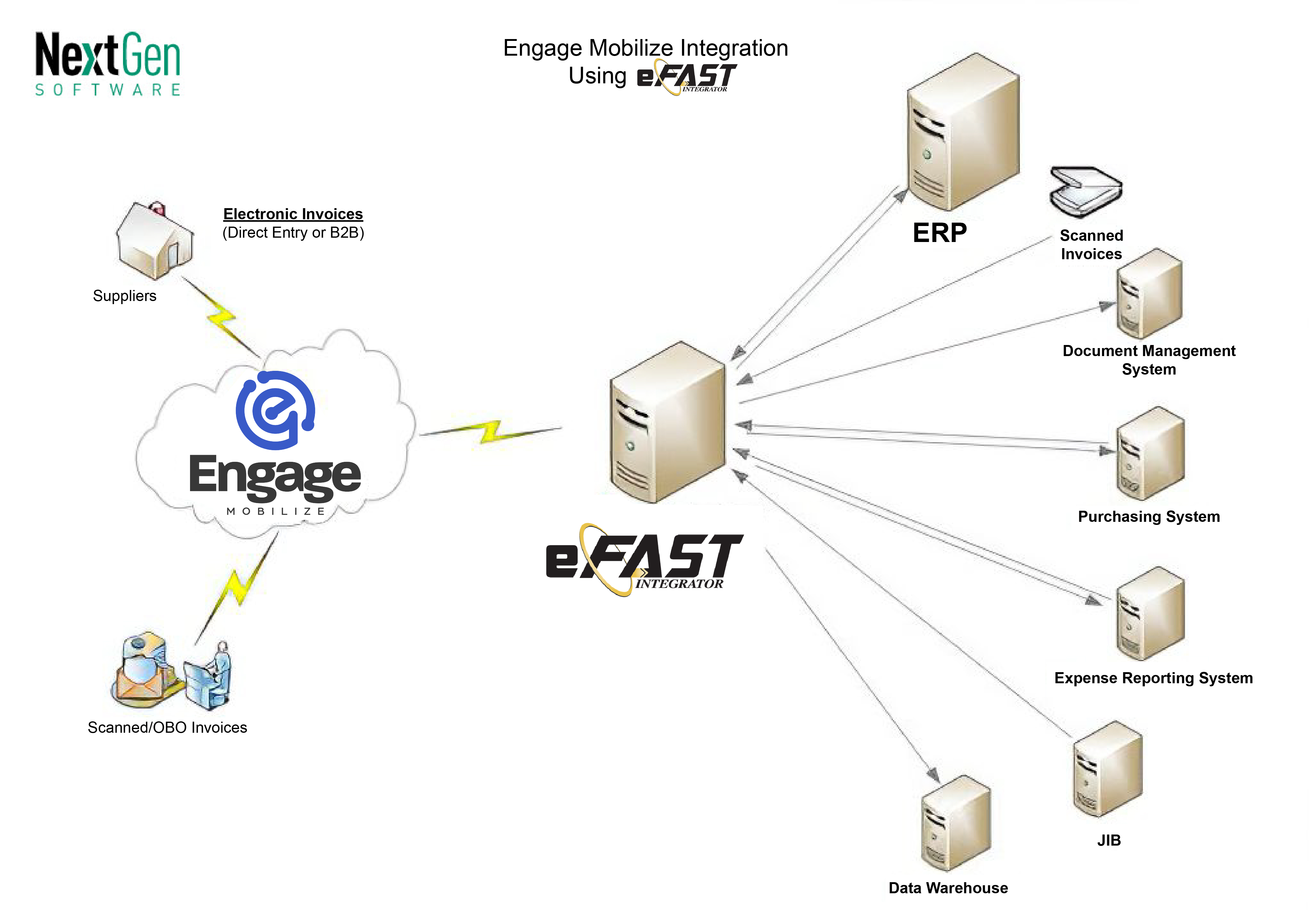 Benefits of Integration
Integrating Engage Mobilize E-Ticketing and E-Invoicing with other systems yields a host of benefits:
Break Down Data Silos and Collaboration: Siloed data inhibits efficiency and collaboration. Integration breaks these barriers, ensuring streamlined collaboration across functions.
One Source of Truth: Validated data from the point of input guarantees accuracy and consistency, serving as a reliable foundation for critical business decisions.
Speed Up Business Processes: Real-time data availability accelerates operational response times and contributes to faster closing of projects and financial books.
Efficiencies and Cost Reduction: Manual rekeying and data transfer tasks are eliminated, reducing human error and minimizing wasted time. This efficiency translates into cost savings.
Business Intelligence: Integrated systems provide a holistic view of field-wide operations, business unit results and corporate performance. This consolidated data enables better analysis and informed decision-making.
Compliance and Data Security: Integration enforces consistent security measures and compliance standards across various systems, mitigating risks and ensuring data integrity.
Summary
Operators, service providers and suppliers that successfully integrate their information systems gain a competitive edge by driving efficiencies and boosting productivity, allowing them to be more agile, responsive and adaptable to changing industry conditions and trends. The integration of Engage Mobilize E-Ticketing with other systems offers a comprehensive solution to improve operational efficiency, drive better decision-making and enhance overall business performance.
Contact us today at (720) 575-6695 or Sales@engage-m.com to learn how to leverage the data outputs from Engage Mobilize E-Ticketing platform across your entire enterprise to achieve new levels of operational efficiency and create a competitive advantage.
Are you ready to learn more?
We're ready to talk to you about the specific cost savings, workflow efficiencies and data insights that come from taking your field operations digital.