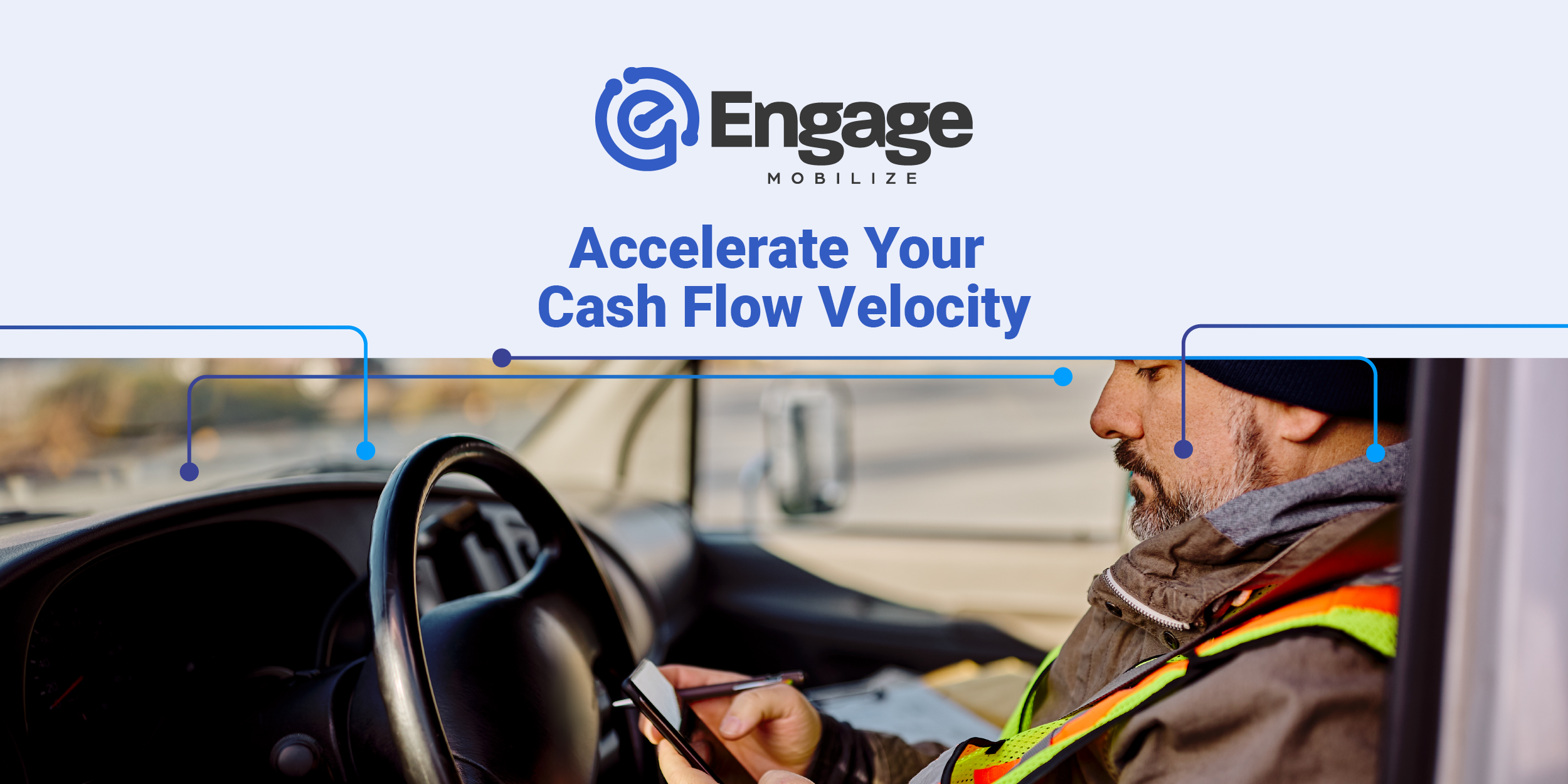 In a cyclical business like Oil & Gas, things can turn on a dime and for those companies who have invested in technology to improve the efficiency and productivity of field service workflows.
One of the choices Oilfield Service (OFS) companies face when trying to improve operations is to get work done fast or get it done right. With QuickPay™ from Engage Mobilize, you can do both.

QuickPay™ - Accelerating Cash Flow
QuickPay™ is Engage Mobilize's payment service powered by TaliPay, a proven cloud-based middleware software platform that integrates supply chain financing solutions and multiple payment channels. When QuickPay is combined with the Engage Mobilize digital ticketing platform; receivables can be automated, secure, accurate and fast.

Benefits for Oilfield Service (OFS) Companies
QuickPay is a powerful tool for accelerating cash flow, the lifeblood of any business. Speeding the conversion of receivables into cash strengthens your balance sheet, improves your bottom line and boosts your growth profile.
QuickPay offers Oilfield Service companies seven important benefits:
Driver retention. Getting paid faster helps attract and retain drivers, reducing expensive turnover and creating a competitive advantage.


Eliminate manual processes and reduce back-office overhead. QuickPay, combined with digital ticketing, replaces paper-based field ticketing processes, helping you manage by exception and resolve discrepancies quickly.


Accelerated payments. Ability to receive payment in as few as 24 hours for approved tickets (if the Operator is signed-up for QuickPay).


Stronger balance sheet. Accelerated cash flow translates into improved working capital and a stronger balance sheet, minimizing borrowing on high-interest lines of credit (if the Operator is signed-up for QuickPay).


Validated and accurate data.

Validating data in real-time means fewer errors and reduced time spent proofing tickets and invoices, allowing you to do more with existing resources.




Better profitability.

Improved cash flow means lower interest expense and increased operating margin to improve, allowing more operating margin to fall to the bottom line.




I

mproved growth profile.

Stronger margins and cash flow improve your ability to fund investments using internal resources, reducing dependency on outside financing for growth.

Benefits for Operators
QuickPay helps you streamline your production accounting workflows, giving your team validated data in real-time so you can achieve new levels of efficiency and productivity both in the field and in the back office.
QuickPay provides Oil & Gas operators with eight primary benefits.
Eliminate manual processes and reduce back-office overhead. QuickPay integrated into E-Ticketing electronic field ticketing software replaces paper-based field ticketing processes with a streamlined digital workflow. Validated data in real-time means fewer errors and if tickets fall within your pre-approved criteria, they are automatically routed to QuickPay for payment. You can do more with the same or fewer resources.


Reduce the risk of making an incorrect payment. Since QuickPay uses validated data from E-Ticketing, your risk of making an incorrect payment reduces significantly.


Recapture lost time and resolve issues faster. Automatically approving routine payments based on validated data frees you with management by exception, so you can focus on the rare problem ticket and get issues resolved faster.


Improved working capital management. QuickPay gives you a daily perspective on cash needed for paying service providers and the timing of payments. This allows you to minimize borrowing on short-term credit lines and financial risk (improved debt ratios).


Improved profitability.

Better cash flow management typically means lower interest expenses and higher profits.




Strengthen loyalty and satisfaction with service providers.

Fast and secure payments are always appreciated and highly valued by OFS companies, which typically operate in highly competitive markets and must watch the bottom line closely.




Earn fee income in exchange for immediate payment. By providing service providers with an early payment option, you can generate fee income with a flexible rate structure that you determine while giving your OFS partners accelerated cash flow.


Summary
QuickPay powered by TaliPay is another way Intelligent Field Operations Software from Engage Mobilize helps both operators and OFS companies achieve new levels of efficiency. By automating payments on approved field tickets in as few as 24 hours, QuickPay can dramatically accelerate your cash flow, reducing financial risk, short-term borrowing needs, interest expense and boosting your profits while strengthening your relationships with service partners.
Schedule a Demo or Consultation Today
Learn more about operational efficiency with our E-Invoicing solution by calling (720) 575-6695, dropping an email to Sales@engage-m.com, or booking a no-obligation demo today.

Are you ready to learn more?
We're ready to talk to you about the specific cost savings, workflow efficiencies and data insights that come from taking your field operations digital.