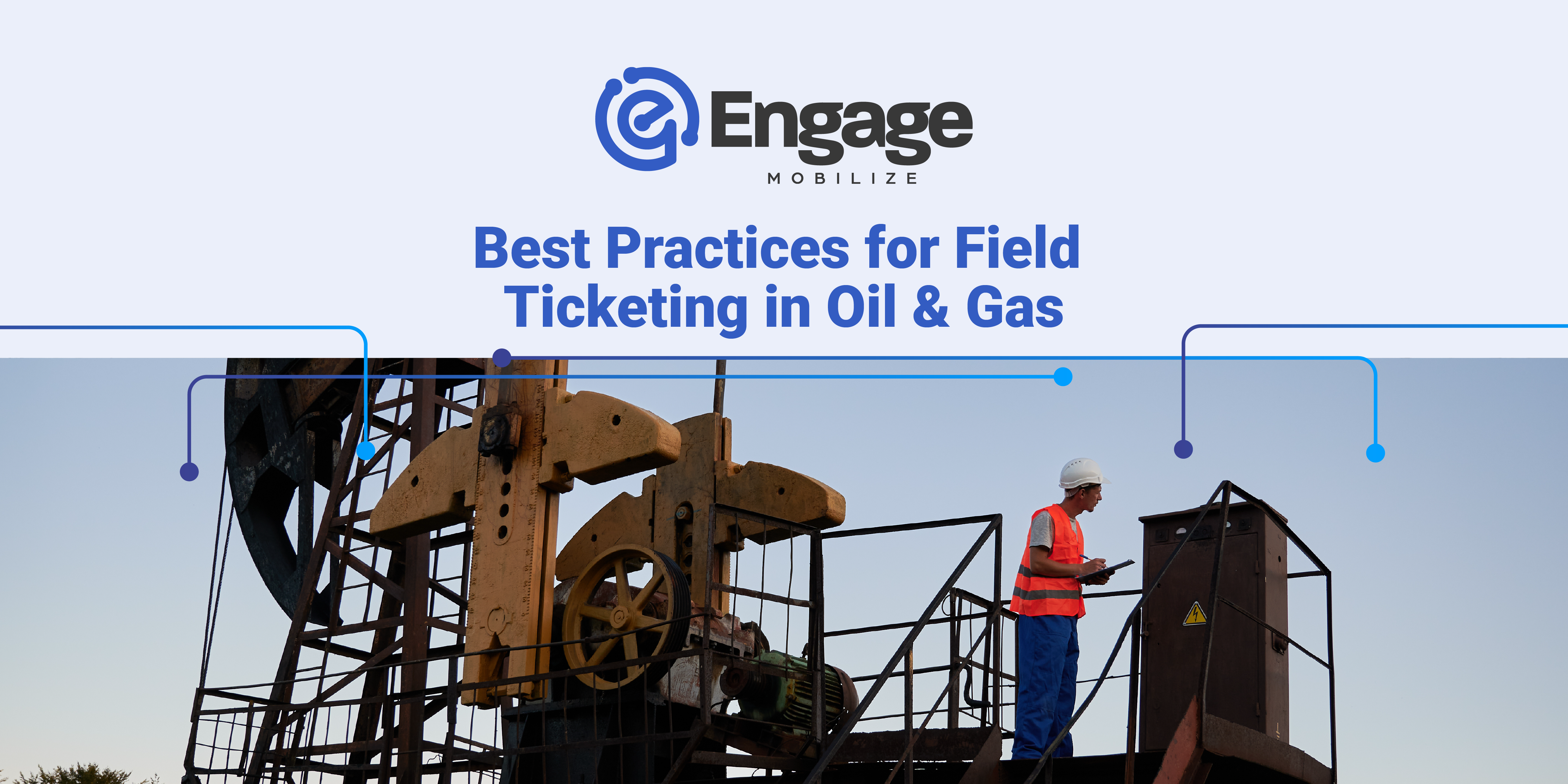 As many leading Oil & Gas operators and oilfield service providers have discovered, one of the most effective ways to control operating costs is to increase the efficiency and productivity of work crews, roustabouts, service techs, water haulers and other essential oilfield workers. Supervising work at remote locations is frequently tricky, so opportunities to identify more efficient methods are often lost. It also means that valid and accurate data for analyzing performance and streamlining back-office tasks are typically hard to come by.
At the center sits the field ticket, the official work record containing the critical information needed for invoicing, payment and operational analysis. Field tickets capture job activities and vital data and enable effective communication between field personnel and operations teams. Field ticket data are the informational building blocks of production accounting systems, invoicing and other critical information systems.
This article outlines the best practices for enhancing efficiency and productivity in the field ticketing process for streamlining workflows and achieving new levels of operational efficiency.
Best Practices for Oil & Gas Field Ticketing
We identified the best practices (below) for oil and gas field ticketing based on our experience with hundreds of implementations and over a decade of solving field service workflow problems.
Embrace digital solutions (electronic field tickets).

Transitioning from traditional paper-based ticketing systems to a digital platform can significantly boost productivity and efficiency. Digital solutions leverage mobile apps or cloud-based software solutions for real-time data capture, seamless collaboration and enhanced visibility across the entire operation. Electronic field ticketing eliminates physical paperwork, reducing the risk of lost or damaged tickets and enabling quick and efficient data retrieval and analysis.




Standardize ticket formats.

Establishing standardized ticket formats, as much as possible for different job types, ensures consistency and accuracy in the data captured. This practice enables more accessible data aggregation and analysis, facilitating the identification of trends, bottlenecks and areas for improvement. Key elements to include in standardized field tickets are job descriptions, job codes, lease names, time and date stamps, materials used, equipment details, labor hours and approval signatures.




Implement automated workflows.

Automating electronic ticket workflows reduces manual errors, accelerates processing times and enhances overall efficiency. Tasks such as approvals, billing and reporting can be streamlined by setting up predefined approval workflows and integrating ticketing systems with relevant software applications (e.g., invoicing, production accounting, etc.). An important time-saving automation enhancement is the ability to compare ticket information with statement or invoice data to identify variances outside approved limits, allowing staff to manage by exception.




Integrate GPS tracking.

Integrating Global Positioning System (GPS) tracking into field ticketing systems provides real-time visibility into field personnel locations and activities. GPS tracking enhances safety by monitoring field workers' adherence to designated work zones. With geofencing, timestamps can be automatically assigned to tickets, improving the visibility of operations in real-time and safety.




Facilitate real-time data sync.

Enabling seamless synchronization between field ticketing systems, backend databases, or production accounting platforms is crucial. Real-time data sync ensures that everyone in the workflow, from the field to the operations office and headquarters, can access the most up-to-date information, minimizing data discrepancies and enhancing collaboration. This practice facilitates accurate reporting, forecasting, accruals, operational analysis and decision-making at the field and management levels.




Choose a partner with industry experience.

People must use the system to realize the benefits of an electronic field ticketing process. Choosing a technology partner that knows the Oil & Gas industry and its specialized needs can significantly improve the efficiency of teamwork and speed of implementation. Once deployed, a partner with industry knowledge can provide better support and be more responsive to changing needs.




Data validation.

When used for water hauling, electronic field tickets enable the validation of water volumes by automatically comparing data input from the driver with tank levels from SCADA systems. Data validation makes for fast and efficient ticket proofing, and digital ticket data can be loaded automatically into production accounting systems.




SCADA Integration. Integrating SCADA operations systems with electronic field ticketing technology can substantially improve productivity with automatic load callouts based on algorithms and historical analysis of well production patterns.
Benefits of Electronic Field Tickets for Oil & Gas Field Ticketing
Implementing a best practices solution for managing field workflows can provide both operators and OFS providers with significant benefits:
Increased productivity.

Accurate electronic field tickets decrease the time spent resolving ticket disputes and eliminate time spent rekeying ticket data into invoices. No more lost or illegible paper tickets means less time spent proofing tickets and fewer customer disputes.




Improved operational efficiency.

Replacing paper-based systems with electronic field tickets for water hauling, for example, can reduce inefficient short hauls and ensure loads are assigned to the units in the closest proximity.




Automated callouts.

By integrating SCADA systems with an intelligent field operations platform, you can automate water and crude hauling callouts, trigger orders to replenish chemicals inventories and generate scheduled preventative maintenance alerts, further improving operational efficiency.




Improved cash management. With near real-time ticket data, you can speed up the invoicing process and get paid faster. Integrated electronic invoicing can reduce the ticket-to-invoice cycle even further.


Financial visibility.

Near real-time insight into field activity, sales tickets and statements provide for a daily report on key operating expenses for improved forecasting and budgeting. Additionally, real-time validated data means the financial books can be closed significantly faster than using manual tickets with fewer prior period adjustments.




Field transparency. Near real-time insight into field crew locations provides scheduling efficiencies and helps improve workers' safety awareness in the field.


Better service.

An electronic field ticketing system integrated with a mobile app for drivers allows dispatchers to assign jobs to the resources in the closest proximity to well-sites needing service, and improves route planning making for less drive time to get more work done in a day.




Better environmental performance. With improved route assignments, the number of miles driven is reduced along with associated emissions. Better planning and route optimization also reduces short hauls or early service, further reducing windshield time and emissions.



Improved safety profile.

Fewer miles driven means less probability of accidents and lost time injuries, preserving your safety record.
E-Ticketing – Work Smarter with Automated Field Service Management
E-Ticketing from Engage Mobilize was built by Oil & Gas people for the Oil & Gas industry and has become the industry standard for electronic field tickets in the Energy sector by unifying operators and oilfield service providers on a single digital platform.
E-Ticketing is robust, reliable, proven and comprehensive. It is used by hundreds of OFS companies and leading oil and gas operators today because it delivers all the benefits of electronic field tickets and more.
Scalable to more than 250 other service types, including produced water hauling, flowback water hauling, crude hauling, roustabout and hourly services, inventory management, workovers and many more.


Assign orders to field resources based on proximity to job site, workload and current status.


Ability to standardize ticket format and data and then tailor them to your operation with easy-to-create E-Forms.


Enable predictive ordering based on integrated SCADA data.

Field resources receive notifications of job assignments on their mobile device.


Job tracking starts once jobs are accepted by field resources.


Automatic status updates and geofence triggers at every step.


GPS directions delivered directly to the field resource mobile device.


Mobile app runs on iOS and Android – no special equipment required.


Mobile app works seamlessly both online and offline. Stores ticket data when not connected to the Internet and syncs when a good connection is sensed.


Robust, reliable, proven and comprehensive, and used by hundreds of operators and oilfield service companies today.


When integrated with Engage Mobilize E-Invoicing, electronic field ticket data flows seamlessly into your accounting system, generating accurate and timely invoices.
Schedule a Demo or Consultation Today
To find out how you can achieve new levels of operational efficiency in managing field service workflows, call (720) 575-6695 or email Sales@engage-m.com
Are you ready to learn more?
We're ready to talk to you about the specific cost savings, workflow efficiencies and data insights that come from taking your field operations digital.