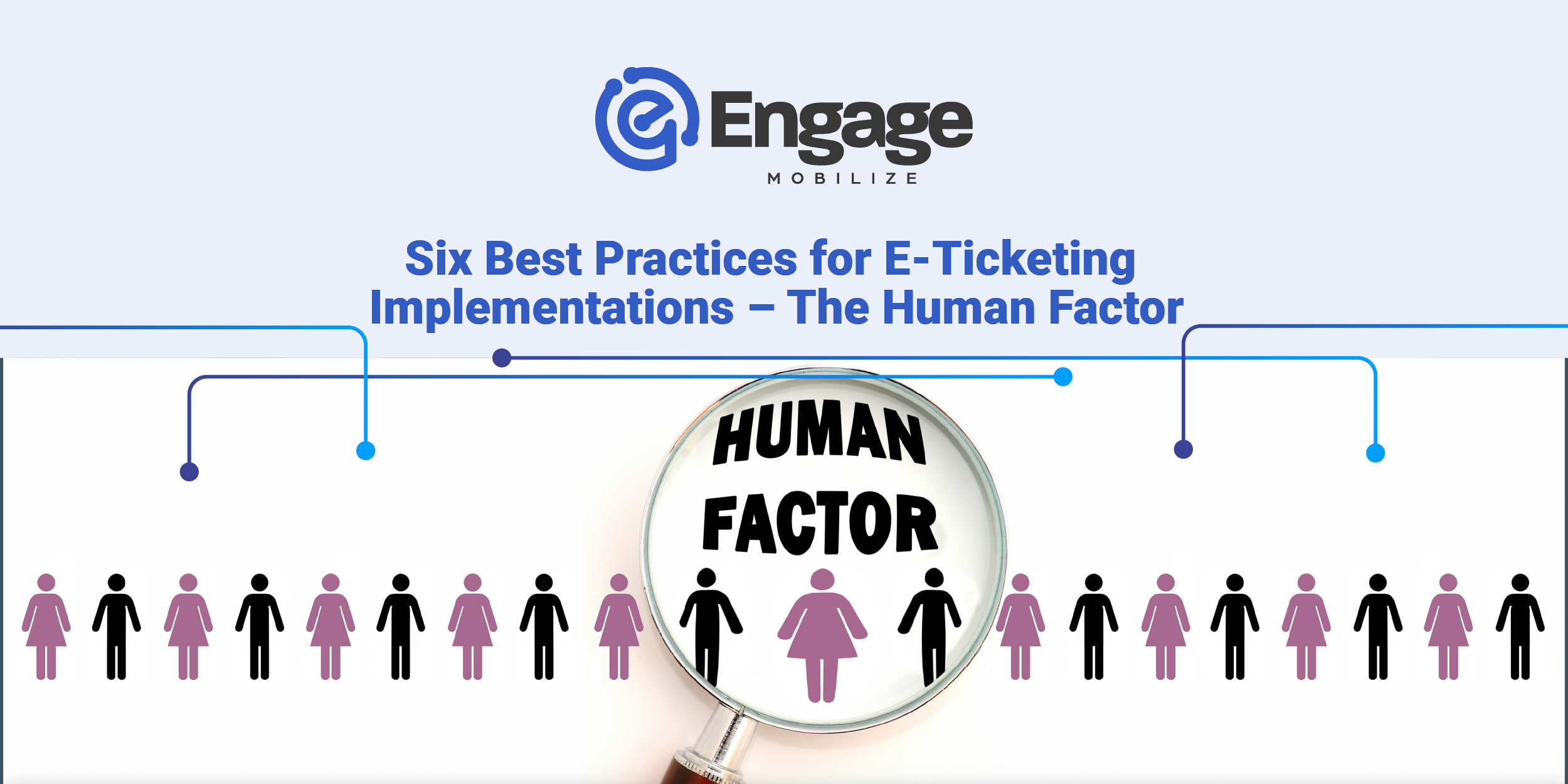 Field service management and invoicing processes based on paper tickets are inefficient, expensive and prone to errors and discrepancies that result in higher costs and lost productivity. Increasingly, oil and gas operators and their oilfield service company providers are replacing paper field tickets with electronic solutions.
Engage Mobilize E-Ticketing has set the standard for electronic field ticketing in the Oil & Gas sector because it unifies operators and service companies on a single platform, helping them achieve new levels of operational efficiency by:
Eliminating paper tickets and their inherent downsides
Increasing visibility of field activities
Improving financial transparency with real-time accruals for tracking costs and revenue
Boosting productivity significantly
Reducing costs
Decreasing inefficient and expensive short hauls
In our blog article Common Pitfalls of Implementing E-Ticketing Software, we covered five specific factors having the potential to derail the implementation of the Engage Mobilize E-Ticketing platform or any other complex software solution. In this article, we focus on the fourth pitfall – failure to consider the human element.
Why the Implementation Process is so Important
Before you can realize the benefits of E-Ticketing for oilfield services, however, the system must be implemented, accepted and adopted by the key stakeholders. In other words, people are going to make or break your implementation. We have outlined some best practices for cultivating allies and mitigating the influence of detractors developed over hundreds of Engage Mobilize E-Ticketing software implementations.
Six Implementation Best Practices for the Human Element of Field Ticketing Solutions
1. Build trust. Building trust among key stakeholders is perhaps the most critical factor in the successful implementation of oilfield ticketing software. Implementing a field ticketing solution is a complex undertaking involving operator personnel and their oilfield services company partners. In addition, there are people inside each organization at multiple levels involved, from headquarters, to the back office and then to the field. People at all levels need to trust each other to fulfill their roles and responsibilities.
2. Communicate, communicate, communicate! If building and maintaining trust is the goal, then effective communication is how that goal is achieved. Timely, accurate and honest communication builds trust between key stakeholders. This is essential because the E-Ticketing platform will impact people at all levels at the E&P Operator, oilfield service providers and Engage Mobilize.
3. Inclusion from the start. People impacted by the implementation need to know that the new system will improve their work lives, deliver the expected benefits and address their specific concerns. Bringing people into the implementation planning process from the beginning can pay dividends down the road in the form of greater commitment, persistence to see things through to completion and minimizing the number and influence of detractors.
4. Build a shared vision of a solution. Even before enacting any sweeping changes that affect your enterprise, you need to make sure that everyone is fully informed about the process and on board with your digital transformation. Share the goals and objectives of the ticketing platform, set aside the appropriate budget, and create a realistic timeline for full implementation. All end users should be fully trained on the new platform and it is particularly helpful to identify "super users" who can assist others in the organization with ongoing support. Training materials and an online knowledge base should be made available to enhance their training.
5. When you fail, don't fail to learn. Every implementation has unique characteristics, including the personalities of the people involved, outdated legacy systems, loss of institutional knowledge, data requirements and more. Any one or more of these factors combined can create opportunities for failure. Based on our experience, however, it is not a case of if a failure will occur during implementation, but when. In business culture, we are often trained to view failures as "bad" and outside the norm.
Yet, when the team fails to achieve a goal or an important implementation milestone, it creates an opportunity to learn and do better. Remember that failure is part of the human learning process, and to treat setbacks as opportunities to learn and improve.
6. Foster accountability instead of blaming. Accountability is good, but emphasizing blame and finger-pointing is a fast way to lose trust and create an environment of fear. In our experience, most stumbling blocks are unintentional and can be overcome by a team that works together.
Instead of blaming and punishing, look at failures as an opportunity to develop a culture of accountability. For example, savvy baseball managers will often keep a starting pitcher in the game even if he has loaded the bases with walks and the opposition's best slugger is coming up to bat. The pitcher needs to be able to develop character attributes and pitching skills to know how to get out of a jam! The wise manager knows his pitcher won't develop problem-solving traits sitting on the bench.
Final Thoughts
Best practices are often developed through experience and we want to put what we've learned to work for your company.
Any successful implementation begins with excellent communication, which in turn forms a bond of trust between Engage Mobilize and our customers. Our team is committed to clearly communicating what we can do and backing it up with action.
Don't hesitate to call (720) 575-6695 or visit our website to book a consultation today. Customer service is available anytime by dropping us a line at Sales@engage-m.com.
Are you ready to learn more?
We're ready to talk to you about the specific cost savings, workflow efficiencies and data insights that come from taking your field operations digital.