Mining Solutions
enable you to better manage workflows, field processes and gain financial transparency.
Our software is designed to make managing mining projects much smoother, boosting output along the way. It helps keep track of intricate operations with far greater speed and ease.
Engage Mobilize Software makes your workflow more efficient by replacing paper tickets and phone calls with real-time interaction, data that can be used to make decisions and automate operational and financial processes.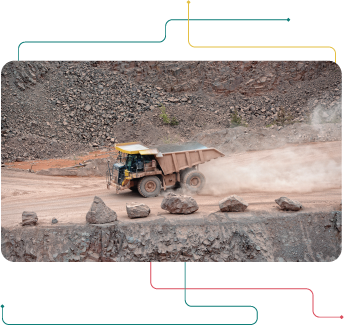 Supply Chain Management Tool for

Mining Operations

Customizable E-forms
Centralizing all your forms and information reduces the administrative burden, streamlines audits and ensures that operators are being provided the correct documentation for all services.
Customizable E-forms

Real-Time Tracking
Our software uses mobile GPS to track field work, while geofencing timestamps entries/exits at sites, warehouses and important locations, offering data for compliance, audits, safety and operations.
Real-Time Tracking

Data Analytics & Reporting
Access to information is critical to the success of any business. By leveraging robust modeling tools, we create real-time data analytics that empower your people to make better business decisions and scale with confidence.
Data Analytics & Reporting

Field Friendly Mobile App
Our software provides real-time field operation visibility with geofencing and GPS. The mobile app works offline, enabling remote job completion and syncing job information to cloud services upon reconnection.
Field Friendly Mobile App

Automated Re-order
Engage Mobilize's inventory management and tracking tools give you real-time visibility into inventory levels and can help you automate the reordering process, allowing for more accurate accounting, reporting and inventory management.
Automated Re-order

Compliance & Audit
Streamline reporting and compliance by capturing data, mitigating legal consequences and leveraging geolocation approach to work with regulatory bodies.
Compliance & Audit
Common Mining Operation Workflows
Transportation Tracking / Hauling
Replace Paper with E-Ticketing

& E-Invoicing

What Our Clients Say
Don't just take our word for it, check out what businesses utilizing Engage Mobilize have to say about the product!
"Digitizing the field transaction is way more impactful than just 'eliminating paper.' Digital ticketing consistently delivers simplicity and visibility."
"The information is current and accurate, and dispatch doesn't have to call the driver. This saves both the driver and dispatch time and ensures that the driver can focus on the current job without having to stop and field incoming distractions or phone calls.
"We are seeing reduced hours per ticket by continuously (in real-time) monitoring our vendor routes which helps us maintain cost at or below budget in this inflated market"
Achieve Your ESG Goals
The Engage Mobilize platform can help you meet your Environmental, Social and Governance objectives.
Learn more about how we can help you reduce the environmental impact of operations in the communities where we all live and work, and generate the data needed to analyze improvements and evidence compliance.