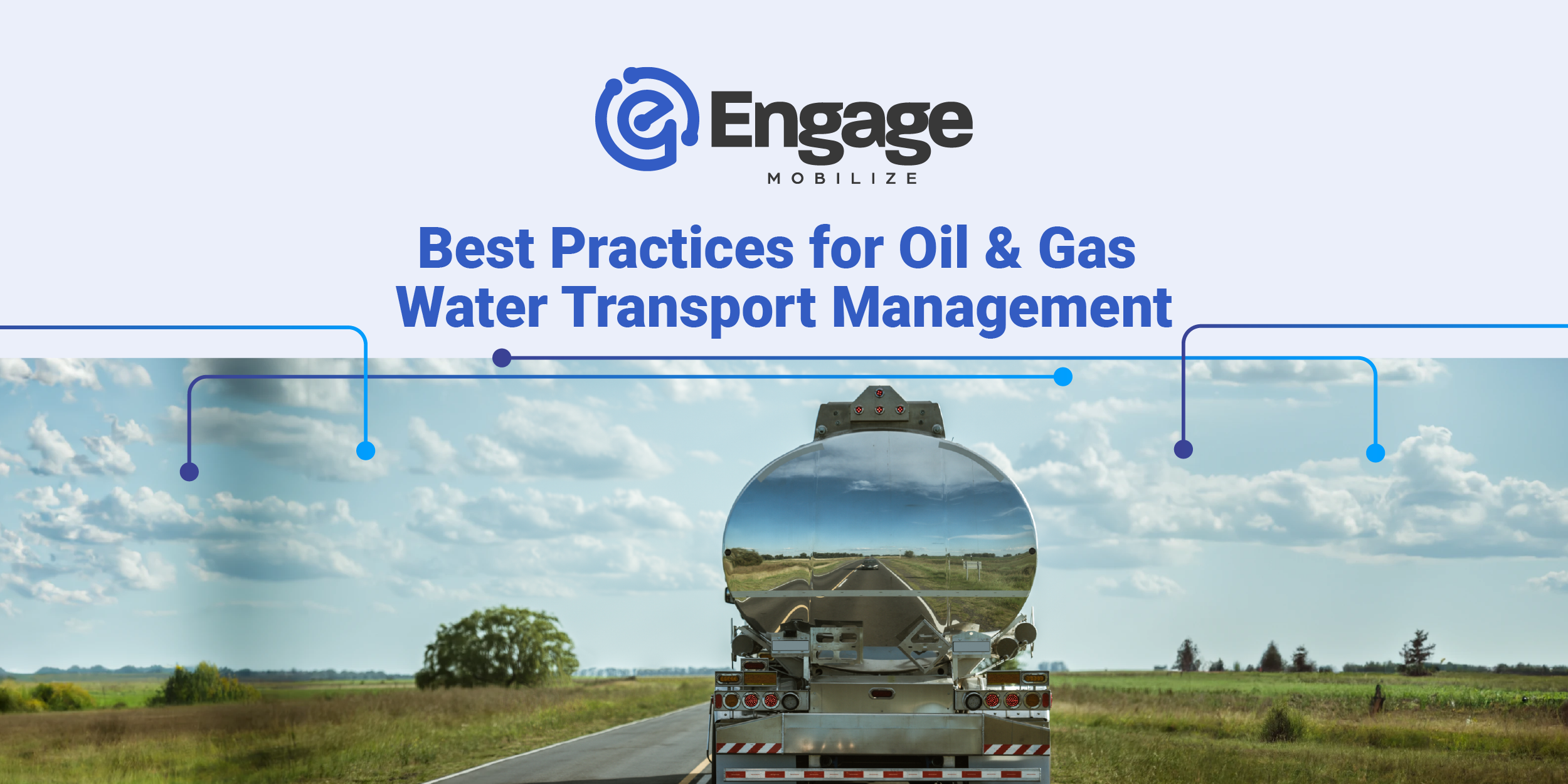 Water Handling is a Critical Oil & Gas Process
Efficient water management and logistics are critical factors for success in the Oil & Gas industry. Inefficient fluids management can quickly drive-up costs, increasing Lease Operating Expenses (LOE) and limiting returns on new wells.
The need for efficient water handling and transport is so critical that many exploration and production (E&P) operators have entire teams tasked with water management and logistics.
Several variables complicate achieving efficient Oil & Gas water management. Water management strategies vary between basins, the individual well location and where a well sits on the decline curve (older wells typically produce more water). Other factors include the number of operating wells in a field, proximity of disposal facilities, local terrain and more. In short, Oil & Gas water management can be complex.
Achieving and maintaining efficiencies are key objectives for water management teams seeking to minimize per-unit LOE, maintain cash flow, generate returns, meet compliance requirements and support environmental performance mandates.
In this article, we cover how technology can help both operators and water transport service companies work smarter and more efficiently.
Read on to learn more about best water hauling practices, including:
Adopting digital field ticketing

Electronic invoicing

Leveraging GPS technology

Advanced data-validation capabilities

SCADA data integration
Types of Fluids Management – Produced Water
There are two primary fluids management processes, one associated with handling, transporting and disposing of produced water and another focused on completing new wells. In this article, we will focus on produced water.
Eventually, almost all oil and gas wells produce water, typically mixed with other sediments and salt, making it unsuitable for consumption or agriculture without treatment. Consequently, it must be either disposed of or recycled. Transporting produced water from the well site to a saltwater disposal (SWD) well site or a recycling facility is a critical process.
Because wells operate around the clock, water production never stops! The two dominant methods of managing fluids, both water and crude oil, are pipelines and truck transport.
Pipelines. Several "water midstream" companies have popped up during the past decade, providing a pipeline solution to water transport. Water midstream companies install pipelines connecting wells to central tank batteries or even directly to SWD wells. The capital and installation cost of the pipeline system is intended to be offset by the savings of eliminating water transport trucks and the associated costs of fuel, maintenance, drivers and insurance, not to mention the environmental benefits of reduced emissions generated by vehicles.
Truck Transport. Not every oil or gas field is suitable for pipelining water because of local terrain, land use restrictions, geographic expanse and other factors. Additionally, if an operator does not have a critical mass of production in a given area, the capital costs associated with a pipeline asset may not be economical. Where pipelines are infeasible, operators turn to the traditional method of transporting water by truck.
Truck capacities run from small "bobtail" trucks with a capacity of 45-50 barrels up to large transport trucks equipped with trailered tanks able to hold up to 150 barrels. Smaller water transport companies may operate a handful of trucks, while some of the larger service companies operate large fleets and cover a wide service area.
Water tank levels on well sites are monitored by supervisory control and data acquisition (SCADA) automation systems or by lease operators as part of making their assigned routes. When a water tank is approaching full capacity, the lease operator contacts the water transporter and requests service. The dispatcher at the transport company then directs a water-hauling unit to the well to draw the tanks and transport them to a disposal facility. Because water production from operating wells never stops, this is a continuous process.
One way to improve efficiency is to assign regular routes to haulers, essentially covering the same ground as the oil company pumper. Routes help improve efficiency and an experienced water transporter effectively becomes a part of the oil and gas operator's extended team. As they get to know water producing patterns of wells in their routes, the hauler can be proactive.
Greater efficiencies can be achieved by integrating electronic field management systems with existing SCADA systems. For example, by connecting SCADA to an intelligent field management platform, it is possible to enable predictive dispatch (automatic callouts) for water and crude hauling.
Flowback Water Transport for Well Completions
The development of unconventional shale oil and gas resource plays has made the Oil & Gas industry even more water-intensive. Shale resource plays are extremely tight, making the flow of hydrocarbons through them impossible without hydraulic completion stimulation, sometimes called "fracking." Water is an essential element in hydraulic completion operations and is required to unlock the value of tight oil and gas shale formations.
When completing an unconventional oil or gas well, water is mixed with proppant, typically sand, and then pumped downhole at high pressure. The high-pressure fluid stream creates small fractures in the dense reservoir rock, carrying the proppant into the open fissures in the formation near the wellbore. Once the sand is in place, the water is flowed back, leaving the proppant in the reservoir rock and creating pathways for the hydrocarbons to escape. This "flowback" water is usually collected in tanks or lined water pits for storage until it can be transported to a recycling facility and prepared for reuse in completing more wells.
Water logistics to support an active drilling program can be complex and expensive. Significant quantities of both fresh and flowback water must be efficiently transported around the oilfield from source to drilling location, and then from the completed well to a recycling facility. According to the U.S. Geological Society, completing a single well requires an average amount of water ranging between 1.5 million and 16 million gallons, creating a huge demand for water transport services.
Managing a water logistics program supporting an active, multi-rig drilling program is a significant and complex undertaking, often involving hundreds of people at both the operator and their water transport service providers. Operational efficiency and resource coordination are required to ensure sufficient water volumes are on location before completion crews arrive at the drill site, and trucks need to be available immediately to take flowback water to recycling facilities.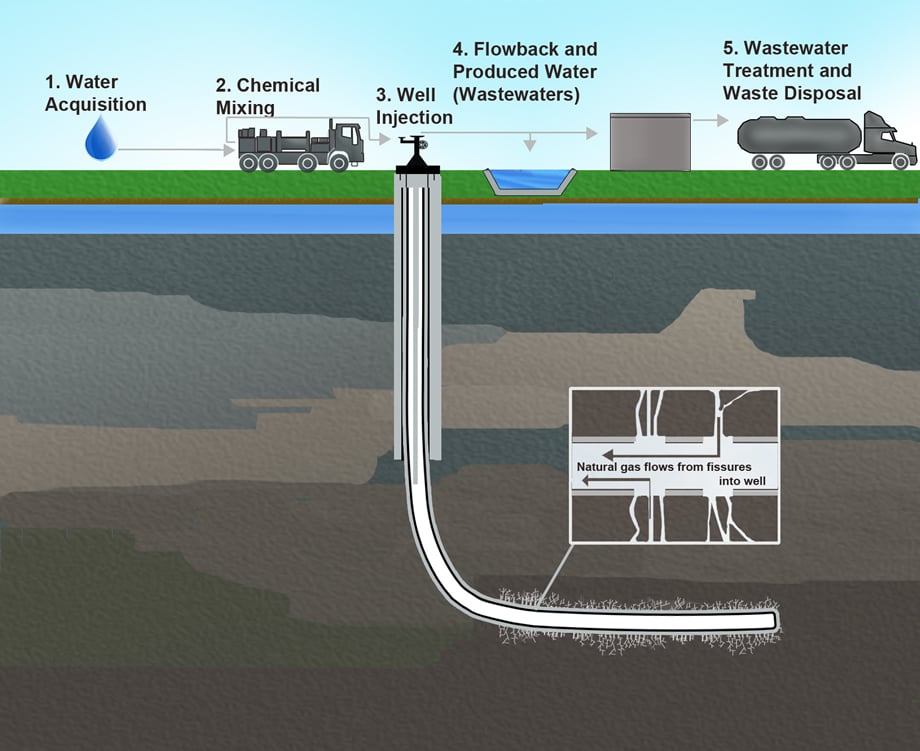 Source: USGS Energy and Minerals
Challenges with Paper Field Ticketing
Whether transporting produced water or flowback water by truck, the process has traditionally relied on paper field tickets to document water volumes, lease locations, time spent on the well site and other important data. More recently, however, electronic field ticketing solutions have been replacing paper tickets to dramatically improve productivity and efficiency.
Using the traditional paper-based method, the driver manually fills out the ticket with the required data and then leaves a copy in the mailbox at the well site. As the driver completes his route, he adds copies of the paper tickets to an envelope or manila folder. Eventually, the driver will drop off the tickets at the main office, mail them in, or sometimes the company will send a runner to pick them up. In some cases, drivers have been known to take pictures of manual tickets on their cell phones and text the images to accounting.
Additionally, a drop-slip ticket provided by the water disposal facility is also generated to provide evidence that the hauler has delivered the right volume of water to the facility. This is an important compliance step, providing evidence that the water has been disposed of properly.
Once the paper tickets are delivered to accounting, they are proofed individually. An accounting clerk or analyst reviews each manual ticket by sight. Tickets that are illegible, missing data or have data outside of normal parameters are flagged for resolution before invoicing. Once approved tickets are sent to invoicing, they are rekeyed into the accounting system, creating more opportunities for error.
This paper-based, manual process is time-consuming, inefficient and vulnerable to inaccuracies. The time delay in receiving field ticket data can also make it difficult, or impossible, to troubleshoot problems in the field before they occur. When operators and oilfield service companies replace paper ticketing with electronic field ticketing, or E-Ticketing, it creates significant time savings, reduces errors and ensures work flows in a streamlined manner.
Five Best Practices for Water Transport Management
We have identified five best practices for water transport management, based on our experiences working with hundreds of water haulers and oil company operators, summarized below:
1. Replace paper tickets with electronic tickets. Eliminating paper tickets with electronic field tickets removes the inherent vulnerabilities associated with traditional paper-based systems. From the driver's perspective, routine ticket data is automatically filled into every ticket, saving time, reducing costs and improving productivity.
­­

2. Electronic invoicing. Integrating an electronic field ticket system with accounting systems eliminates the need to rekey ticket data, making invoicing fast and accurate, improving cash flow. Accurate invoices also reduce time spent resolving ticket disputes that can strain customer relationships.
­

3. Integrated GPS. Digital field ticketing solutions integrated with GPS capability can substantially improve productivity by providing fast and accurate directions. With geofencing, timestamps can be automatically assigned to tickets, improving visibility of operations in real-time and safety. Also, the unit closest to a well site in need of service work can be easily re-routed to it, improving responsiveness to operator needs.
­

4. Data validation. Electronic field tickets enable validation of water volumes by comparing data input from the driver with tank levels from SCADA systems automatically. Proofing an electronic field ticket is fast and efficient, and digital ticket data can be loaded automatically into production accounting systems. These efficiencies save operators time on manual data entry, which is otherwise required to reconcile produced water volumes.
­

5. SCADA Integration. Integrating SCADA operations systems with electronic field ticketing technology can substantially improve productivity with automatic load callouts based on algorithms, Artificial Intelligence (AI) and historical analysis of well production patterns.

Benefits of Electronic Field Tickets for Oil & Gas Water Transport
Implementing a best practices solution for managing water transport can provide both service companies and oil and gas operators with significant benefits:
Better cash management.

With near real-time ticket data, you can speed up the invoicing process and get paid faster. Integrated electronic invoicing can reduce the ticket-to-invoice cycle even further.


­

Improved operational efficiency. Replacing paper-based systems with electronic field tickets has the potential to reduce inefficient short hauls and ensure loads are assigned to the units in the closest proximity.
­

Increased productivity. Accurate electronic field tickets decrease the time spent resolving ticket disputes and eliminate time spent rekeying ticket data into invoices. No more lost or illegible paper tickets means less time spent proofing tickets and fewer disputes with customers.
­

Automate callouts. By integrating SCADA systems with an intelligent field operations platform, you can automate callouts for water and crude hauling, further improving operational efficiency by anticipating service needs.
­

Financial visibility.

Near real-time data provides you with an ongoing view of finances during the month, so you don't have to wait until the books are closed to get an accurate read on revenue.


­

Field transparency.

Near real-time insight into water transport units provides scheduling efficiencies and helps improve safety awareness of workers in the field.


­

Better service. An electronic field ticketing system integrated with a mobile app for drivers allows dispatchers to assign loads to transport units in the closest proximity to well sites needing service and redeploy other units to ensure timely transport of produced water.
­

Better environmental performance. With improved route assignments, the number of miles driven is reduced along with associated emissions.
­

Improved safety profile.

Fewer miles driven means less probability of accidents and lost time injuries, preserving your safety record.
E-Ticketing – Work Smarter with Automated Water Transport Service Management
E-Ticketing from Engage Mobilize was built by Oil & Gas people for the Oil & Gas industry.
E-Ticketing has become the industry standard for electronic field tickets in water transport by unifying operators and water transporters on a single platform.
E-Ticketing is robust, reliable, proven and comprehensive. It is used by hundreds of water transport companies and leading oil and gas operators today because it delivers all the benefits of electronic field tickets and more.
Enable predictive ordering based on integrated SCADA data

Assign orders to field resources based on proximity to job site, workload and current status

Field resources receive notifications of job assignments on their mobile device

Job tracking starts once jobs are accepted by field resources

Automatic status updates and geofence triggers at every step

GPS directions delivered directly to the field resource mobile device

Mobile app runs on iOS and Android – no special equipment required

Mobile app works seamlessly both online and offline

Robust, reliable, proven and comprehensive, and used by hundreds of water transport companies and leading oil and gas operators today

When integrated with Engage Mobilize E-Invoicing, electronic field ticket data flows seamlessly into your accounting system, generating accurate and timely invoices


Scalable to more than 250 other service types
Schedule a Demo or Consultation Today
To find out how you can achieve new levels of operational efficiency for water management and fluids handling, call (720) 575-6695 or email Sales@engage-m.com.  

Are you ready to learn more?
We're ready to talk to you about the specific cost savings, workflow efficiencies and data insights that come from taking your field operations digital.