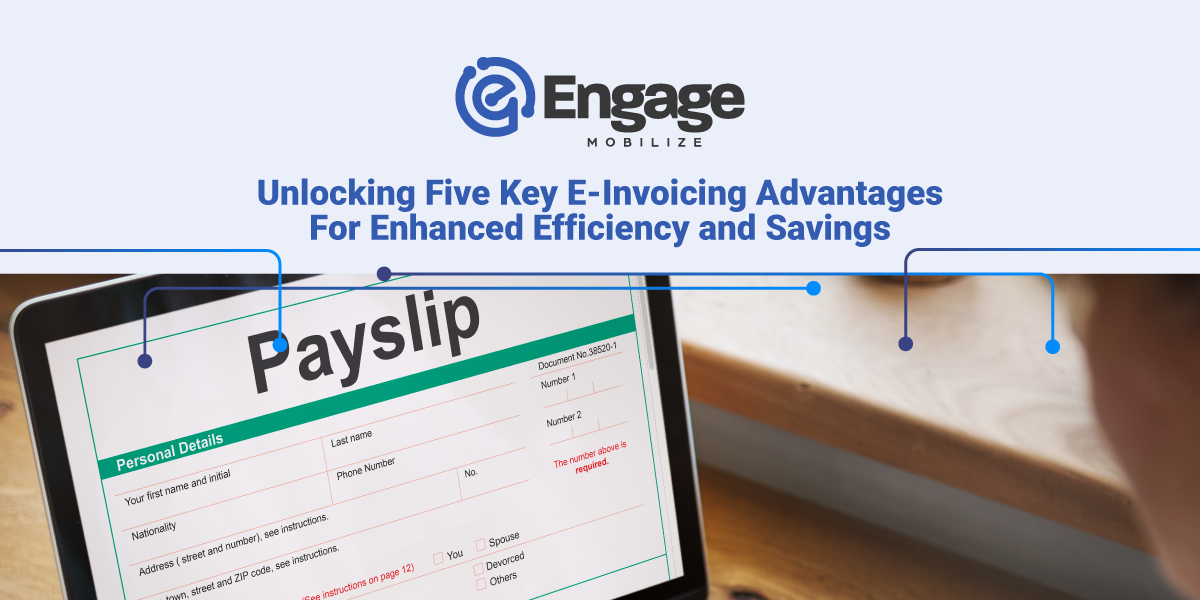 Those in the oil & gas, petroleum, and other energy sector companies face a host of challenges. In addition to growing competition and unprecedented supply chain disruption, enterprises are looking at shrinking margins, reduced cash flow, and inefficiencies at every level.

In light of these issues, what's the best thing your company can do to cut costs and improve productivity without adversely impacting your business?

You don't necessarily have to take a giant leap or overhaul your entire operation. The first step in the right direction is transitioning to an automated electronic invoicing system.
What is E-Invoicing and How Does it Work?

Electronic invoicing is a digitized payment system that automates the entire invoicing and payment process. This process can be as straightforward or complex as you'd like, ranging from point-to-point issuance and payment directly with vendors or customers to a multi-layered process that begins in the field.

The objective of this type of invoicing system is to reduce costs and save time without sacrificing a thing. It works at the first point of contact when an invoice is sent electronically requesting payment for services. It's then transmitted in a digital format to all relevant systems and platforms, such as your accounting department, inventory management, logistics and shipping, and the customer.

Once the transaction is completed, the digital documentation is archived and stored.
Because the information must adhere to guidelines related to pricing, product or job numbers, and other criteria input into the system, the invoices are more accurate than traditional paper invoices. There's also greater transparency and faster remittance.

It works so well, electronic invoicing is now a requirement for government contracts throughout the EU, the US, and other countries.
Advantages of Electronic Invoicing

Electronic invoicing isn't new to the energy sector. However, emerging technologies, security concerns, and the demands of compliance make automated billing more than a mere benefit. They're a necessity for industrial concerns in the 21st century.

The outlook for electronic invoicing shows a growth trend of up to $29.68 billion annually by 2027.
The advantages of electronic billing systems are many. Here are five key benefits of undertaking this type of digital transformation at your company.
1. Electronic Invoicing Streamlines Workflows

There are potentially hundreds of workflows running in the background of an industrial enterprise at any given time. With an electronic invoicing system, processes from the field to the office are streamlined and optimized.
As jobs are dispatched and entered into the system in the field or at the production facility, the data is also transmitted to relevant departments and on to the ultimate buyer in real-time. This eliminates the wait for approvals and payment, and it prevents bottlenecks at critical junctures.

The data collected is also used for reporting, forecasting, and inventory control. With information on production capacity and scale, additional scheduling for predictive maintenance and repairs can be initiated. This prevents unnecessary business disruption and delays.
2. E-Invoicing Eliminate Touchpoints

Every paper invoice and document must pass through numerous hands before it reaches a decision-maker. Through implementing a combined E2E digital field ticketing and invoicing system, companies can virtually eliminate touchpoints. By creating a touchless, automated invoicing system, requests move almost effortlessly through the pipeline, and approvals are granted faster. In fact, it will streamline the entire AP/AR process.
3. Digital Invoices are More Secure
Between damaged or misplaced paperwork and the continued threat of cyber attacks, security is a rising concern. Electronic invoices are transmitted securely over encrypted networks and stored in secured data centers. The addition of AI and blockchain to the mix makes digital payments, data transmission, and storage more secure than ever. This level of security throughout the data collection and processing protocol also helps ensure compliance with GDPR and other regulations regarding how companies collect and handle sensitive information.
4. Electronic Invoices Improve Cash Flow

The main way that e-Invoicing improves cash flow is by shortening the turnaround time of billing to payment. Customers receive their bills electronically as soon as the service is provided, which means no more collection delays.

Since all of the data is stored electronically and available to anyone with approved access, potential shortfalls and cash flow problems can be identified and prevented sooner.

Because there's no more paperwork or duplicates involved, your office supplies won't become depleted, and storage space is made available for more important items.
5. Risk Mitigation is Ensured With Electronic Invoicing

Cybersecurity is a huge part of risk mitigation. But, electronic invoicing also protects your business in other ways. Because invoices require digital signatures, fraud and identity theft are less of a threat. Safeguards put into place also prevent forgery and overbilling,

Billing errors are eliminated through automatic reconciliation. As soon as information is entered into the invoicing system, the numbers are matched against payments, returns, identification numbers, and other important data. Any mismatches, errors, or incorrect information will result in an alert.

This ensures a high level of transparency and prevents auditing by regulatory bodies. If there are any questions about financial transactions, the information and proofs are there.
Bonus Benefit: Green Initiative

As long as you maintain your systems and data storage in an environmentally conscious manner, you're one step further in the drive toward more environmentally friendly production and business processes. In industries that have to work harder to overcome accusations of waste and ecologically unsustainable practices, that's a bonus.
Going digital also helps with directives for paperless business processes, and it eliminates waste throughout the whole production and supply chain.
Final Thoughts

If you're not ready to make the leap to a total digital transformation, start with an electronic invoicing system. Taking it one step at a time in this manner will ease your team into the change. It will also ensure a smoother transition when you're ready to consolidate your processes and go fully digital.

Engage Mobilize is a top choice when it comes to automated solutions for industrial enterprises of all sizes. Get in touch with us to schedule a consultation today. We can't wait to show you what we can do for your company.
Are you ready to learn more?
We're ready to talk to you about the specific cost savings, workflow efficiencies and data insights that come from taking your field operations digital.