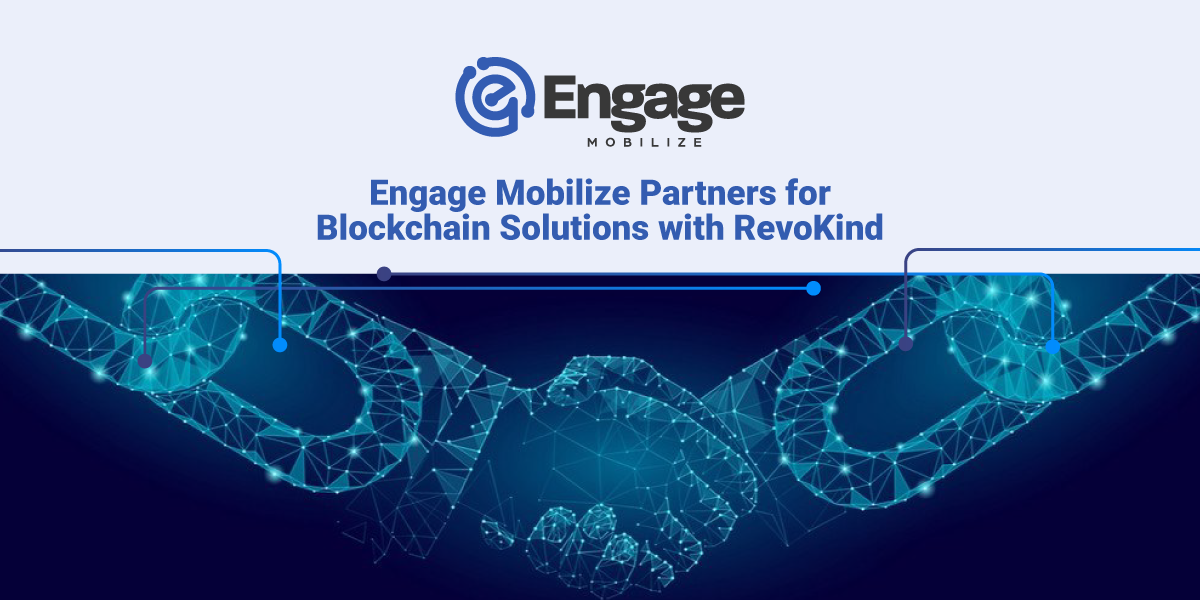 Engage Mobilize plans to be ahead of the curve by offering oil & gas industry enhanced billing, record-keeping, and data transfers for overall increased efficiency
NEWS PROVIDED BY:
Engage Mobilize, Inc.
& RevoKind, Inc.
DENVER, September 26, 2019 — RevoKind and Engage Mobilize have announced a partnership to bring comprehensive blockchain solutions to the oil & gas industry. The partnership includes the licensing and integration of RevoKind's core technology to streamline back-end processes. The new integrated solutions will provide Engage Mobilize cutting edge technology to continue solving many of the industry's challenges, such as field ticket automation, authorization for expenditures (AFE) approvals, joint billing exchanges, and secure information exchange.
What is Blockchain – and Why Does the Industry Need It?
Blockchain is a distributed ledger of data that maintains an immutable record and is updated with each new entry. The technology has a wide range of applications for both the private and public sectors, such as financial record-keeping, legal contracts, and supply chain traceability. For the oil & gas industry, there are many potential benefits and increasing demand for streamlined and straightforward solutions.
"There are currently very few blockchain solutions within our industry, and we're confident we can provide the absolute best software on the market to meet our client's needs," said Rob Ratchinsky, CEO of Engage Mobilize. "We're not only solving the challenges of today; we're solving them for the next 25 years to come. By layering on this technology to our platform we have setup our client set with some of the most game changing features in the space"
What are the benefits that this custom software will provide?
Replacement of Invoicing through Dynamic Smart ContractsTM
Increased Security and Speed of Customer Data for Data Exchanges
Immutable Record-Keeping for AFE's and Joint Billing
Full Blockchain Node Compatibility and Mobility Across Devices
Internet of Things (IoT) Integration
Online and Offline Transactions for Remote Systems
RevoKind's core communications and blockchain technology will integrate into the current field management software developed by Engage Mobilize. Given the lightweight software, the transition is expected to be seamless for both the company and end-users during deployment.
"Our Dynamic Smart ContractsTM will be particularly useful for making these tools incredibly easy to use," stated Justin Caswell, CEO of RevoKind. End-users won't even know they're utilizing blockchain while tickets are created or edited in the field, which is a core feature Engage Mobilize currently offers. Caswell goes on to say, "there is no blockchain software company out there that can offer that."
The oil & gas industry as a whole can benefit significantly from adopting these new technologies, and it doesn't have to come at a great expense or hassle. A partnership like the one between RevoKind and Engage Mobilize ensures that clients are getting the best technology while also getting the industry-specific care and focus that they need. In the spirit of their collaborative effort, both companies are also working together to offer educational materials to help everyone involved stay up to speed.
Is your Oil & Gas organization interested in learning more about the benefits of blockchain within Engage Mobilize software? Schedule a live information session by clicking here.
About Engage Mobilize:
Engage Mobilize is a cloud-based digital field management platform that is revolutionizing the way oil and gas companies interact with their service providers. Their comprehensive solution interfaces with both operators and vendors, allowing transparency on all sides. Engage Mobilize is the industry-preferred solution for digitizing oilfield activity spanning across over one hundred service types.
About RevoKind:
RevoKind is an enterprise technology company that is driving the future of communications through advanced internet architecture. Patent-pending technology options – Dynamic Smart ContractsTM, Multi-One PaymentTM, and a proprietary RevoXchangeTM – make it easy for businesses to adopt and customize a unique enterprise-ready blockchain-based infrastructure. Currently, RevoKind's core communication and blockchain technologies are licensable for network integration. Soon, software development kits will be uniquely crafted for entities in the government, telecommunications, energy, logistics, and software sectors. RevoKind software offers a new standard of blockchain network solutions for businesses and governments that want a competitive edge. For more information about Revokind, visit https://www.revokind.com/
---
Media Contact
Cassandra (Cassie) Skindzelewski, Director of Marketing
SOURCE: Engage Mobilize, Inc.
Are you ready to learn more?
We're ready to talk to you about the specific cost savings, workflow efficiencies and data insights that come from taking your field operations digital.