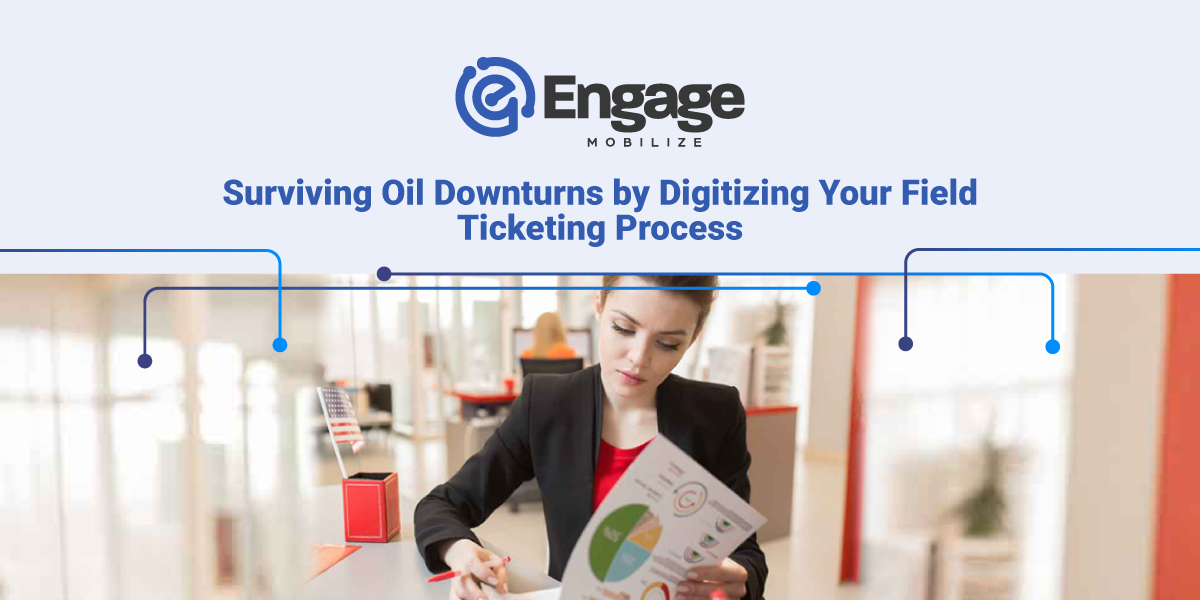 Downturns in the oil and gas industry are an inescapable fact of life in this energy sector. Finding ways to reduce costs and streamline processes for your business can often have a significant impact on your company's ability to weather these financial storms and to improve productivity and profitability for your business.
A 2021 article in Forbes predicts more challenges ahead for the oil and gas industry as more restrictive carbon emissions policies are implemented. To stay competitive and viable, your company should seek to reduce costs and consolidate processes to allow the focus to remain directly on your core business functions.
The field ticketing process can be a real-time sink and stressor for businesses in the oil and gas industries. Digitizing field tickets can eliminate touchpoints and can save time for your crew members and for your organization. At Engage Mobilize, we make it easier for you to digitize field ticketing processes and workflows. This can add up to real savings on overhead costs and an improved ability to navigate the changes in the petroleum marketplace more successfully. Here are some of the most important benefits of digitizing your field ticketing processes in today's oil industry.
Eliminating Paper Tickets
Despite the arrival of the digital age, many oil and gas companies have failed to adopt new technologies for field ticketing processes, which typically include the following:
Labor activities and costs
Equipment
Materials
These items are typically invoiced to the customer and approved by someone at the oil and gas job site. Eliminating paper ticketing can reduce the risk of errors and lost items to optimize the processes involved in field ticketing.
Faster Processing With Fewer Errors
Upgrading to a digitized ticketing system can also reduce the number of errors made by your staff members. Automated ticketing can fill in many of the blanks predictively, which can streamline the process of managing field tickets for your company and your staff members.
Increased Productivity in Upstream, Midstream, and Downstream Processes
Digitizing your field ticketing system can also increase your team's productivity. This can have a positive impact at every stage of your oil and gas extraction and production workflows:
Upstream Workflows
The automated ticketing systems available from Engage Mobilize can provide added support for upstream activities that include the following:
Exploration of potential sites
Geological surveys and
Drilling
Logistics
Production
Engage Mobilize offers E-Ticketing and E-Invoicing services that take the paperwork out of the equation to optimize these tasks and workflows. This can save you time and effort when dealing with field tickets for upstream activities.
Midstream
Some of the most common midstream activities in the oil and gas field can be accomplished more effectively by digitizing field tickets associated with these important tasks, which may include some or all of the following:
Transportation and hauling activities
Pipeline construction
Storage of crude oil and natural gas
Infrastructure construction
Obtaining and deploying tank cars for trains and tank trucks
The field ticketing activities associated with the midstream oil and gas segment can be managed much more effectively with the help of Engage Mobilize and our tools to automate, streamline and optimize all aspects of your workflows.
Downstream
The final stage in oil production is the downstream segment of the process, which includes the following activities:
Refining oil to produce gasoline, diesel, and kerosene
Natural gas and petroleum product distribution
Sales and marketing for oil and gas
Manufacturing of petroleum-based products that may include waxes, lubricants, and other plastics
We can help you boost downstream productivity while tracking all elements of your project with ease.
At Engage Mobilize, we are committed to helping your company to manage every phase of the oil extraction and production process in the most optimized way possible. This can improve productivity throughout your organization and can boost productivity to produce increased profitability in the competitive marketplace.
Improved Recordkeeping
One important reason to consider digitizing your field ticket process is the improved storage and searchability that Engage Mobilize can provide for your company. Rather than shuffling through mountains of paper to find the field ticket you need, Engage Mobilize makes it easy to search through field tickets by a variety of criteria to locate the precise information you need with far less effort. In most cases, the data points for each field ticket are captured automatically and validated for approval or rejection based on your contract agreements.
Easier Creation and Management of Field Tickets
The Engage Mobilize E-Ticketing system can allow your operators to perform predictive scheduling for orders that occur frequently. E-Tickets can also be assigned to specific teams, who can then use our mobile app to track the progress of these activities. Engage Mobilize makes it easy to streamline the entire field ticket process from start to finish.
Advanced-Data Analytics and Report Creation
The tools offered by Engage Mobilize make it easy to generate reports and to perform advanced data analytics on your field tickets, which can provide you with the data points needed to steer your business in the right direction. At Engage Mobilize, we are committed to providing you with the best and most practical Software solutions for your oil and gas business.
Touch Base With Us Today
If you would like to know more about how Engage Mobilize can help your oil company to achieve greater financial stability, productivity and flexibility, contact us today.
We look forward to the opportunity to work with you to bring your field ticketing processes into the digital age.
Are you ready to learn more?
We're ready to talk to you about the specific cost savings, workflow efficiencies and data insights that come from taking your field operations digital.